Certified Woman Business Enterprise
Fletcherkote Powder Coating Service Guide for Oilfield Tubular Products
This Fletcherkote corrosion protection system incorporates fusion bond Novolac epoxy powder in a one-part, heat curable, thermosetting coating for corrosion protection with primer additive built in and developed to extend the service life to primary oil production tubing, pup joints, couplers, crossover/nipples, mandrels, and line pipe.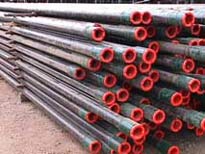 The Fletcherkote corrosion protection system is specifically formulated and engineered for service operation at elevated temperatures to 266 Fº, high abrasion, exposure to H2S, CO2, CH4, crude oil and brine. Fletcherkote applied powder coatings reduce build up of paraffin, scale, and drag imposed by friction between fluid and internal tubing surface in hydraulic lines resulting in higher production efficiency and less down time.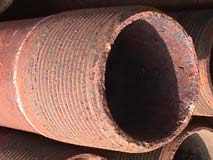 Fletcherkote coating services include a dual surface preparation process of heat cleaning and mechanical surface cleaning on site in accordance with API, NACE, and SSPC industry standards. There is no potential for contamination and rust bloom between cleaning and coating process intervals. No additional transportation costs or risk of non-compliance to powder manufacturer and industry specification standards when having to transport material from a surface cleaning service company to the coating applicator.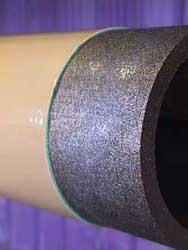 Fletcherkote's Torque Guard dual coating corrosion protection system features a unique cellular, fusion bonded epoxy top coating to form a tough, resilient outer layer to increase impact strength and protect the primary base corrosion protection layer of coating from damage during torque make-up (installation of tubing), lower in, backfilling and construction abuse in rough terrain. Cathodic disbondment performance of this coating system is suited for hot environments.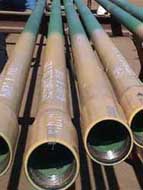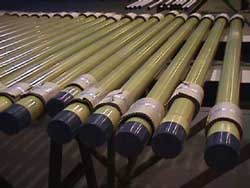 Service Capacity:
Internal, External, and Internal/External Coating Service Available


Tubing Diameter range from 1-1/2" to 4-1/2".
Line Pipe for Internal coating 1-1/2" to 6"" diameters, up to 40-foot lengths (DRL).
Line Pipe for Internal coating 8" to 24" diameters, up to 20-foot lengths (SRL)
Line Pipe for Internal & External coating 13" to 24" diameters, up to 20-foot lengths (SRL)
[ Home | Contacts | Products | Prices | Terms | Capacity | FAQs ]
© 2000 Fletcher Coating Company. All Rights Reserved.
Fletcherkote, Prefab Kote, Spiral Kote, the FCC Logo,
Torque-Guard-Prefab-Purplekote are all trademarks of Fletcher Coating Company.