Fletcherkote Powder Coating Service Guide for
Concrete Steel Reinforcement
To improve your productivity, achieve optimum performance, and profitability in the marine concrete construction industry featuring the Prefab-Purplekote corrosion protection system for rebar, wire, mechanical splicing, welded wire fabric, dowel bar, baskets and Spiralkote system for spirals.
Concrete structures exposed to contaminants that fill our air, including acid rain, airborne chlorides, de-icing salts, aggregate, chemical additives and salt water in coastal areas will absorb these corrosive agents. Steel unprotected within the concrete will begin to corrode, which creates pressure and causes the concrete to expand and crack. The corrosion process accelerates thus prematurely weakening the structure, destroying the steel reinforcement and ultimately affecting the integrity of the concrete structure.
The advent of fusion bonded epoxy powder-coating technology as a means of protection against corrosion began with original powder coating formulations developed for steel reinforcing bars (rebar) intended for use in highway concrete bridge decks located in cold climates subjected to aggressive de-icing salts. This flexible green colored powder coating formulation allowed for rebar to be manufactured by the "Post-fabrication" method of coating straight lengths of steel bar and then shearing and fabricating to final shape.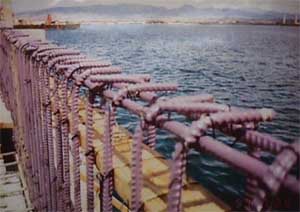 Soon the use of epoxy-coated steel bars as reported at one time by officials from forty-one State Dept. of Transportation (DOT) agencies considered epoxy coating to be the most common practice of providing corrosion protection and relied upon this technology to provide adequate corrosion protection for any concrete structure and perform adequately for 50 or more years. The use of "Post-fabricated" epoxy-coated rebar expanded to include marine structures in subtropical climates. Controversy surrounded its use and performance when Florida DOT reported corrosion problems in an isolated incident located at a marine substructure after only 7 years of service.
Upon further investigation by DOT, FHWA, U.S. Navy and industry researchers it was determined that the "Post-fabrication" manufacturing process and coating materials used for corrosion protection of steel reinforcement needed performance requirements further defined and product service limitations enhanced and specified.
Fortunately, Fletcher Coating Company had made the business decision in the early 1980's to incorporate into their production practices Federal Highway Administration research recommendations to cut to length and fabricate to shape steel reinforcing bars then to mechanically remove contaminants and prepare all steel surfaces with a sufficient anchor profile before applying a epoxy powder coating, otherwise known as the "Pre-Fabricated" method for producing epoxy coated steel reinforcement.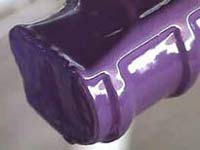 As the pioneers in producing Pre-fabricated epoxy-coated steel reinforcement for corrosion protection, Fletcher Coating then lead research efforts in the transfer of existing corrosion protection technology utilized in it's pipeline coating service and began applying a non-flexible proprietary purple colored powder coating to Prefabricated steel rebars now commonly referred to as the Prefab-Purplekote corrosion protection system.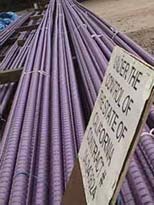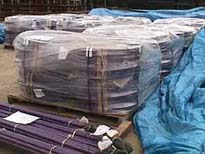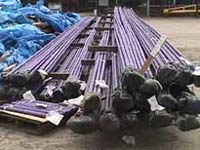 As members of the American Society for Testing and Materials, Fletcher Coating in alliance with United States Navy material research engineers created a new standard specification document for the Prefab-Purplekote corrosion protection system known as ASTM A-934. The Navy's Engineering Service Center and California DOT soon adopted this specification into all marine concrete construction projects.
This pipeline type of non-flexible proprietary purple colored coating formulation combined with the Prefab-Purplekote method of producing concrete steel reinforcement is engineered for marine concrete and other salt laden corrosive environments. The tidal cycle of salt water wetting and drying is one of the most severe exposures for concrete steel reinforcement in regard to availability and concentration of corrosive elements not to mention the rate of corrosion at subtropical climates being greater than in cold climates.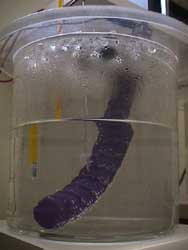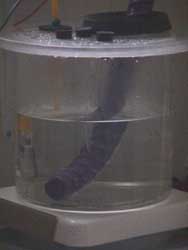 To date, we conservatively estimate to have provided over 100 million pounds of the Prefab-Purplekote corrosion protection system for marine construction, rehabilitation, seismic safety retrofit projects, and new concrete structures. This has established Fletcher Coating as the largest, most experienced and preferred supplier of the Prefab-Purplekote corrosion protection product.
The most recent findings of a Federal Highway Administration study (Report titled: FHWA-RD-98-153) completed after evaluating 33 protective coatings for concrete reinforcing bars conclude FHWA research supports the use of epoxy-coated reinforcing steel bars as a cost-effective corrosion-protection system for reducing rehabilitation and costs while increasing the service life of concrete bridges, parking ramps and garages, piers, wharfs, prestressed, precast and cast-in-place pilings, highway dividers, swimming pools and caisson stabilizer's utilized in residential housing.
Service Capacity:
Straight lengths up to 85'-0" foot lengths.
Welded wire fabric sheets up to 7'-0" x 20'-0".
Wire spiral (plain and deformed) up to 28" diameter, up to 200 lb sections.
Hoops up to 7'-0" diameter.
For product data sheet, MSDS, technical information please visit www.3M.com
Please contact us for a contractor/steel supplier/fabricator near you.

[ Home | Contacts | Products | Prices | Terms | Capacity | FAQs ]
© 2000 Fletcher Coating Company. All Rights Reserved.
Fletcherkote, Prefab Kote, Spiral Kote, the FCC Logo,
Torque-Guard-Prefab-Purplekote are all trademarks of Fletcher Coating Company.